Nace un Grupo Cooperativo para fomentar el consumo de la patata aragonesa / A Cooperative Group is born to promote the consumption of the Aragonese potato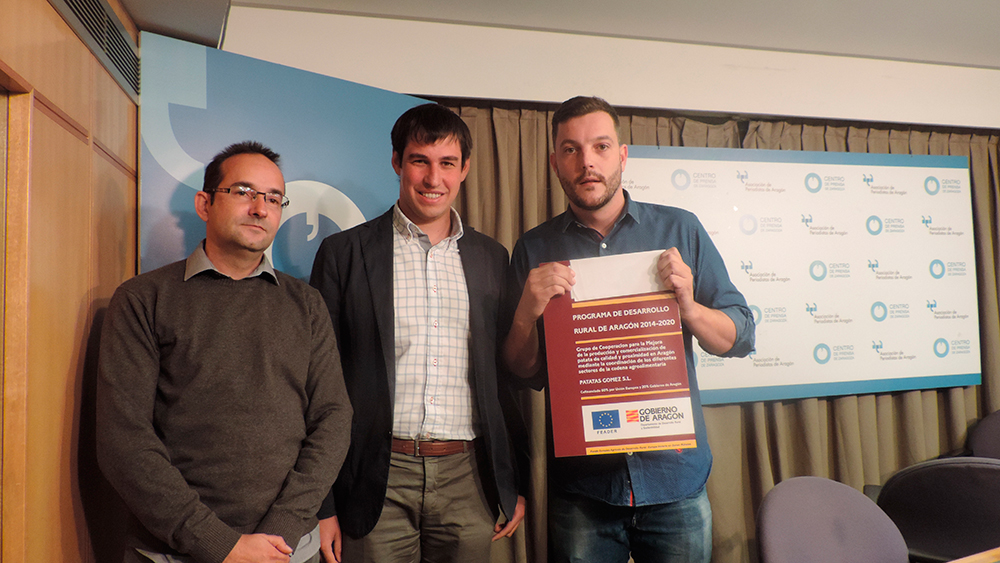 Fomentar la producción, consumo y almacenamiento de patata en Aragón. Este es el objetivo con el que Almacenes Bonel y Patatas Gómez se han unido en un Grupo Cooperativo junto a otros pequeños minoristas y productores. Una unión que, tal y como ha contado Pablo Bruna, coordinador del Proyecto y miembro del Centro de Transferencia Agroalimentaria (DGA) y de PROVESOS, "surge de la necesidad y la inquietud del sector de venta directa en el que se solicitan más productos de proximidad". Leer más en Aragón Digital. Foto R. Gascón (Aragóndigital.es) Promote the production, consumption and storage of potatoes in Aragon. This is the objective with which the firms Almacenes Bonel and Patatas Gómez have joined together in a Cooperative Group together with other small retailers and producers. A union that, as Pablo Bruna, coordinator of the Project and member of the Agroalimentary Transfer Center (DGA) and PROVESOS, told us, "arises from the need and concern of the direct sales sector in
Forma parte de un plan anual del Departamento de Desarrollo Rural y Sostenibilidad del Gobierno de Aragón para explotar el sector agroalimentario de la Comunidad y avanzar hacia una cadena más competitiva y eficiente, respetuosa con el medio ambiente y cercana al consumidor. Así, las dos empresas invertirán 122.700 euros, subvencionado al 80% por la Unión Europea y la DGA. Dentro de esta campaña, las patatas se conocerán en el mercado por el nombre de "Potatico", que deriva de las patatas "Potato" (marca que lleva más de 20 años en el mercado) de Patatas Gómez, que cuenta con una experiencia de más de 50 años en el sector de la patata.
A Cooperative Group is born to promote the consumption of the Aragonese potato
It is part of an annual plan of the Department of Rural Development and Sustainability of the Government of Aragon to exploit the agri-food sector of the Aragonese Community and move towards a more competitive and efficient chain, respectful of the environment and close to the consumer. Thus, the two companies will invest 122,700 euros, subsidized 80% by the European Union and the Government of Aragon. Within this campaign, the potatoes will be known in the market by the name of "Potatico", which is derived from the potatoes "Potato" (brand that has been in the market for more than 20 years) of Patatas Gómez, which has an experience of more than 50 years in the Spanish potato sector.